Alumni. Prof. Dr. Jill Scott works as artist and scientist with the senses.
Her wife Alumni. Prof. Marille Hahne asked me if I could program some Max/MSP for a project, inclusive for visually impaired people, exploring visual, auditive and tactile senses and focusing on climate change.
I was glad she asked me, we had a great time in Zurich and Basel preparing the project. It took place at the "Haus der elektronischen Künste" in Basel.
The result of my work was a controller for sound (sampling, synthesis, effects) by arm movements and hand gestures, which were recognized by MYO-armbands, which every acteur wore and practiced to use.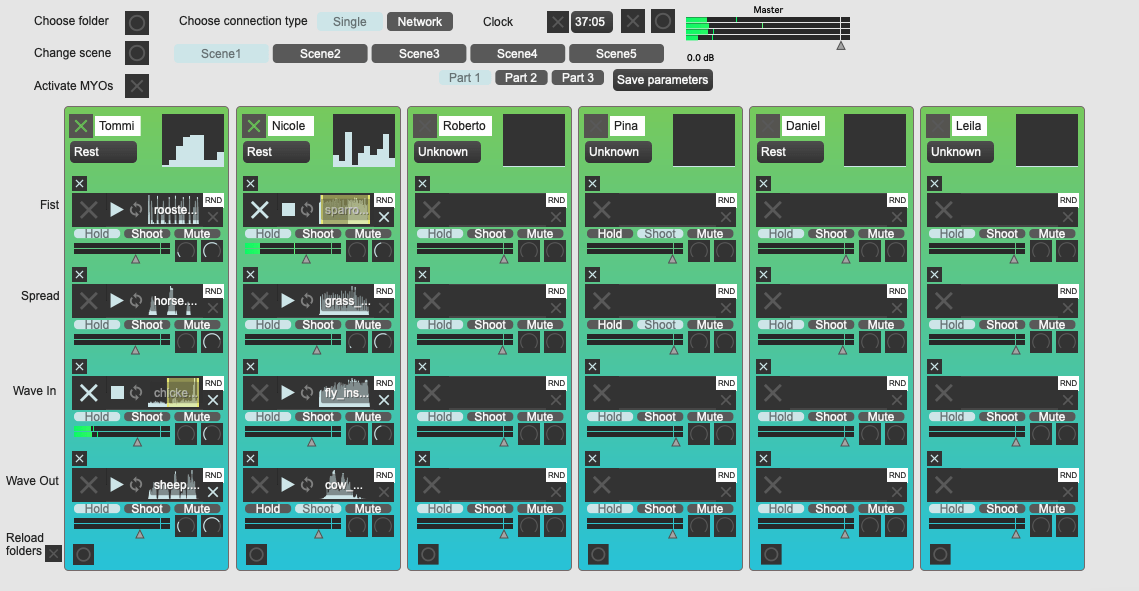 Max/MSP audio controller for six MYO-wristbands, 4 soundtracks, 2 effects per track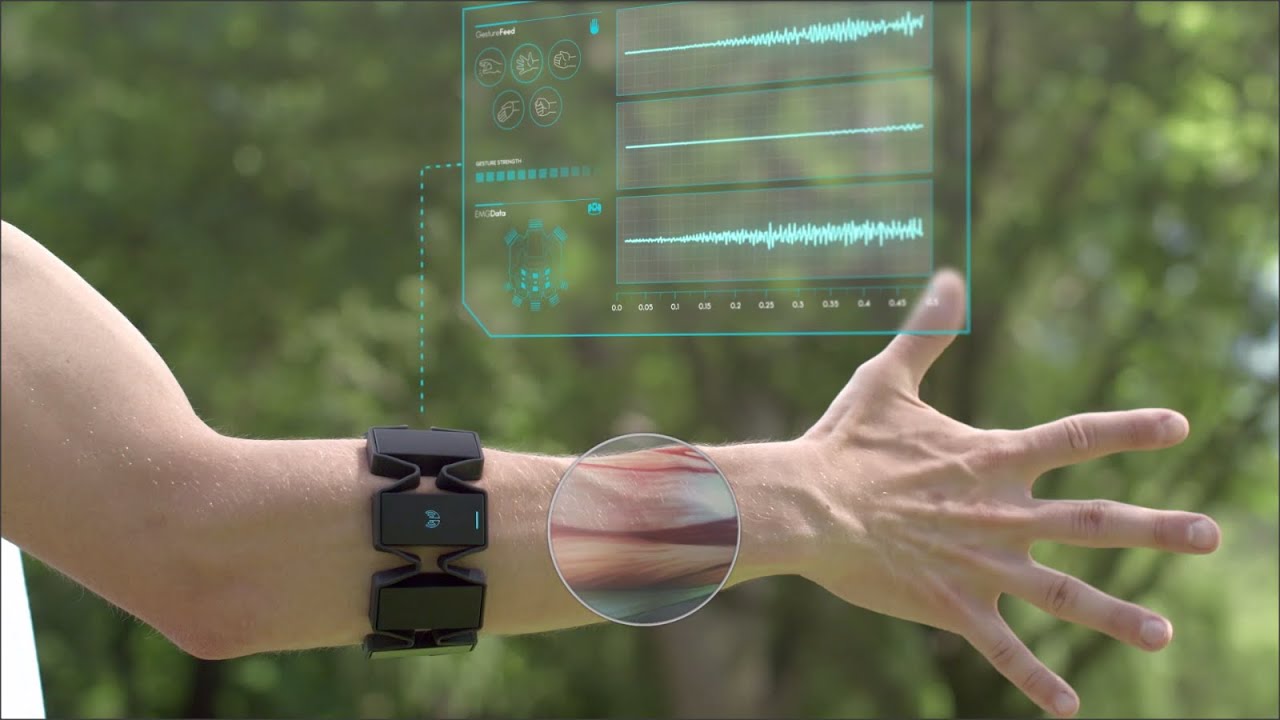 MYO-wristband (Stock Photo)
Invitation by the House of Electronic Arts Basel:
ESKIN is a creative and multidisciplinary stage platform that enables seeing and visually impaired participants to express themselves performatively.
ESKIN 5 Basel is an inclusive media art project on the subject of climate change under the direction of Swiss-Australian media artist Jill Scott, which will be performed at HeK Basel.

Using sound objects, portable technologies, interactive graphics and real-time computer interactions, the ESKIN group has developed a spectacular audiovisual performance that creates an emotional dialogue between the performers and the audience. The collaborative group consists of five performers, two choreographers, six media artists and two scientific consultants.
The five scenes in ESKIN 5 Basel have the following content: Rural life, urban life, rivers, forests and sustainable climate-conscious living. Images and information that were provided by the Crowther Lab at ETH Zurich and the Atmospheric Sciences Meteorology Institute for Climatology at the University of Basel are creatively interwoven with personal experience by the ESKIN group into a 40-minute interactively controlled audiovisual performance.

ESKIN wants to encourage the audience to become proactive in preserving our nature and helping to reduce human impact on our environment. The performances will be followed by public discussions with all participants.

Director: Jill Scott
Choreographers: Dominique Cardito und Tommi Zeuggin
Visually Challenged Participants: Roberto Collidoro, Pina Dolce, Daniel Fernandes, Laila Grillo, Nicole Sourt Sánchez
Description by Jill Scott:
IDEA OF ESKIN at HeK


Eskin is a performative tribute to nature and to the re-wilding or re-design of our local environments. It is based on a technical platform that encourages local empowerment for those who want to be included in the cultural debate on climate change and speak out about pollution and energy use. Eskin in Basel, is the second collaboration with visually impaired persons that gives them a chance to be included in this debate. Alongside choreographers, scientific consultants and artists, these participants work in this project, one that was initiated by Swiss Australian media artist Jill Scott. The participants will perform five interlinked scenes on a unique stage with customized sound objects, interactive graphics, dancers, computer interaction and wearable technologies. The aim is to educate the audience and encourage them to be pro-active about climate change.

THE 5 SCENES OF ESKIN

Scene 1. Homeland and the Farm

This scene is based on the healthy memories we have from childhood about the farmland around us. The sound of cows and other animals and the land itself as well as the tastes from local food that grows on it. These tactile pleasures and sound sensations from our own childhood memories of the Swiss landscape illustrate how our changes in temperature are shifting these memories.

Scene 2. Our energy use and the City

This scene maps the energy use in our cities as seen from an aerial perspective. It uses satellite data from Basel to create an impression of how the distribution of our energy from industries and pollution from our activities such as commuting and industrial production will affect our physical health.

Scene 3. River and Pollution

This scene compares the beauty of abundant Swiss river water with the effect on water quality of our own waste and agricultural and glacial run-off. Also, micro-plastic waste is featured here as an analogy and its effect on life under the water and our drinking water.

Scene 4. Forest and Extinction

This scene shows the relation between climate change and the effects on biodiversity. It features the affects of higher temperature levels and how predator-prey relationships are already changing and may shift again in the future.

Scene 5. Mitigation and Adaptation

This scene is a call to the audience to get up, demonstrate and be engaged in the improvement of local conditions. It features action based on teamwork as a necessary element to look at the problems of adaptation and encourage mitigation. Mitigation (auf Deutsch: Eindämmung des Klimawandels) is the acceptance of climate change with the need for our action to lessen the future climatic effects of it.

Additional posters in the theater space: We plan to exhibit five relevant posters featuring related solutions in the space.